Commercial Real Estate Info - Providing Information And Current Industry Events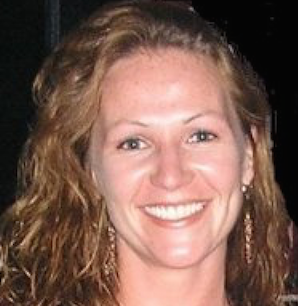 Marchelle Marie Lamaster (Courtesy Google Photos)

Latest News & Lawsuit Filings: 
8/7/2017 News:
On her TBREIA.com profile, Marchelle Lamaster Claims To Be The "Economic Development Chair For CONA". However, We've Just Received An Email From Ms Murray, President, That There Is No Economic Development Committee At CONA. It Appears That Ms Lamaster Is Claiming Again That She Is Part Of A Group That She Is Not. The Email Is Attached.

---------------------------------------------------------------------------------------------------------------------------------------------------
8/4/2017 News:
Marchelle Lamaster -- Suspended Member Of The Florida Gulf Coast Commercial Association Of Realtors (FGCAR.com) Despite What Is Stated In Her TBREIA.com Profile.

---------------------------------------------------------------------------------------------------------------------------------------------------
8/3/2017 News:
Marchelle Lamaster's Suspension And Immediate Removal Sought By The Tampa Bay Real Estate Investors Association (TBREIA.com) Ethics Committee Board.
---------------------------------------------------------------------------------------------------------------------------------------------------
Before Engaging Any Real Estate Broker Or Agent On Your Behalf, Conduct A Thorough Online Background Check Of Their Ethics & Tenure To Ensure That You Are Making The Best Possible Choice For Your Specific Needs.
It Should Be Pointed Out That Ethics Complaints Have Been Filed Against Ms Lamaster With DBPR In Orlando And The TBREIA (Tampa Bay Real Estate Investors Association) As Well As Other Regulatory Bodies And Industry Organizations.
(1) Real Estate Broker
Marchelle Lamaster
Sued for Alleged Tort of Battery In The Harming Of Lawrence Todd Maxwell:
Tort Battery Case Filed in St Petersburg, Florida
St Petersburg, FL, July 26, 2017 --(PR.com)-- As of Public Record Tort Battery case recently filed in Pinellas County - St Petersburg, Florida. Defendant - Marchelle Marie Lamaster. Plaintiff - Lawrence Todd Maxwell. Story reported on Facebook

Case Number 17-004514-CI - Pinellas County, Florida Clerk of Courts
It is important to note that the Plaintiff has written email and text confirmation from the Defendant confessing to the claims in the action and illegalities she committed in this action. This evidence will be presented at the time of trial.
----------------------------------------------------------------------------------------------------------------------------------------------------------------------------
(2) Real Estate Broker Marchelle Lamaster Sued By Lawrence Todd Maxwell For Indebtedness And Unjust Enrichment :

Civil Case Filed in St Petersburg (Pinellas County), Florida
St Petersburg, FL, July 31, 2017 --(PR.com)-- As of the public record, this action was filed for indebtedness dating back several months. Plaintiff - Lawrence Todd Maxwell / MX Properties, Inc. Defendant - Marchelle Lamaster /
Master Investments RE Group, LLC
Case Number 17-005772-CO - Pinellas County, Florida Clerk of Courts
It is important to note that the Defendant itself has attempted to reach a direct settlement (absent legal counsel on both sides) with the Plaintiff who considers the offer quite insulting given the extreme magnitude of its monetary losses. The Plaintiff possesses substantial and empirical proof that this "offer" is nothing more than a sarcastic attempt by the Defendant to minimize the depth at which the Plaintiff has suffered at the hands of the Defendant - Marchelle Lamaster and Master Investments RE Group, LLC of St Petersburg, Florida. Evidence of the true nature of the actual losses of the Plaintiff will be clearly shown at trial.
----------------------------------------------------------------------------------------------------------------------------------------------------------------------------
(3) Marchelle Lamaster - Civil Theft Admission & Repayment:
For The Record, There Is NOT A Non-Disclosure Agreement Between Real Estate Broker Marchelle Lamaster And Todd Maxwell In Her Admission For Violating Florida Statute 772.11 (Civil Theft) And The Credit Card Fraud That Marchelle Lamaster Perpetrated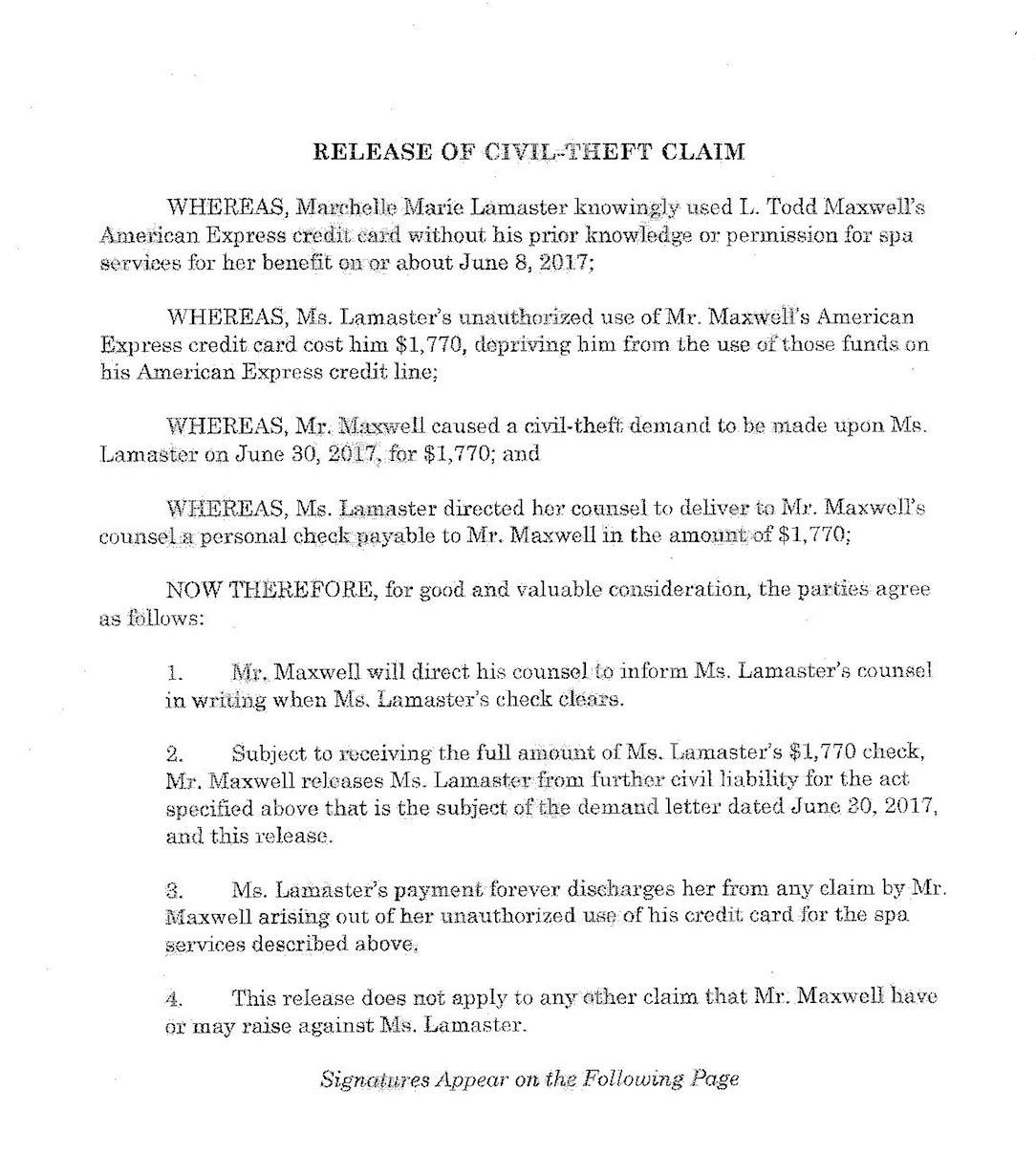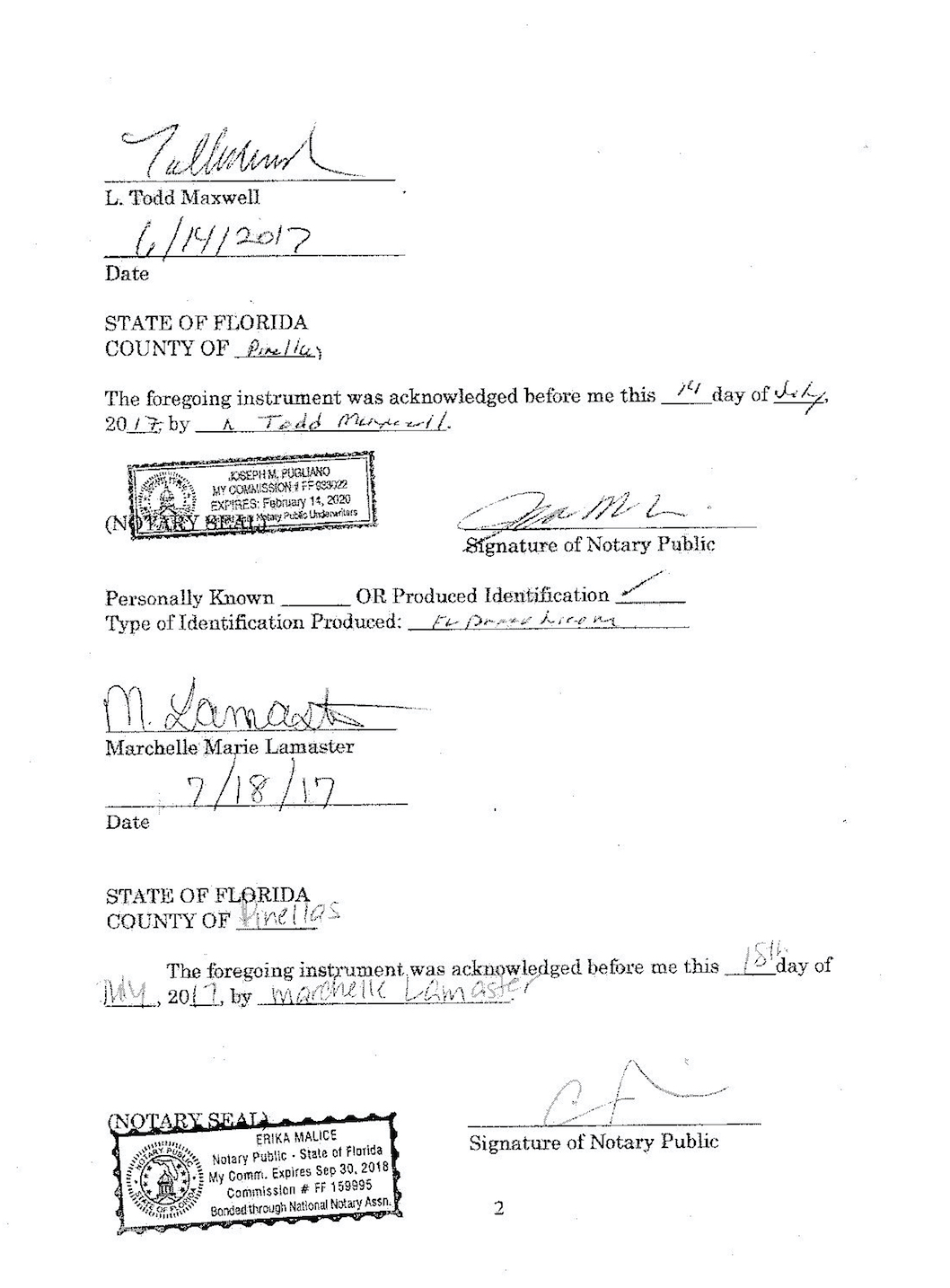 ----------------------------------------------------------------------------------------------------------------------------------------------------------------------------
Information Regarding The Basic Components Of The Commercial Real Estate Market
In a rather fickle global and national economy, commercial real estate investments still continue to hold out as a smart move. Though events of the past year have significantly impacted on the commercial real estate environment in 2017, with a number of trends emerging. This has ushered in increased popularity in some surprising components, which we have outlined below:
Homes
The demand for new homes and master-planned communities is on the rise with improved household incomes and a growing population of millennials that need homes. The number of housing starts is projected to grow throughout the rest of 2017, eclipsing 2016 numbers. Though the growth is often hampered by labor shortages and permit issuing delays, which pushes the number of completed projects down and creates a backlog.
Home prices are also expected to grow, though at a much slower pace than previous years, because of these limits to supply and inventory. More regional areas of the United States, such as the Midwest are benefiting from increased demand due to job growth in the area and lower home prices than its more coastal or metropolitan counterparts.
Better home mortgage and delinquency rates are also improving the overall outlook, yet this could easily be tethered by a rise in interest rates despite more relaxed residential mortgage guidelines. The situation also prompts a popular rental environment which can be advantageous to real estate investors. Rental demand and values have remained strong, especially with builders who want to diversify. Taking advantage of this is influencing builders' business models and aligning them more with multi-family home building.
The same demand in smaller markets present in homebuilding real estate is also showing up in the retail sector. This area can often be the most fragile, with store real estate investments coming in well below more major real estate types, especially in terms of new developments. Though more niche retail operations in urban areas and localized offerings are acting to change this sector for the better.
To follow the positive trajectory, retail real estate investors are shifting their focus to smaller, more lifestyle anchored projects. Often these are part of more mixed use developments, with lifestyle and food and beverage options all in one spot. While overall retail has shifted from the country's original major power players from Fifth Avenue, to Rodeo Drive to include lesser known and even regenerated areas as well as a booming e-commerce sector. As the customer base fans out, investors are finding that they can find tenants for small, yet high priced spaces that better cater to the holistic needs of the market. The strategy remains similar in their desire to scale up these properties to create hefty portfolios.
Hotels
The hotel commercial real estate arena is increasingly influenced by a younger millennial generation that demands a blend of luxury of their professional adult lives and the ease and economics of travel of their student hostelling days. Thus hostel projects are beginning to incorporate hotel elements such as bars, bespoke design touches, and en suite facilities. Investors in hotel commercial real estate are well served in catering to this demand as more and more hotel projects emerge that accommodate for this upscale economy trend.
Indeed even big name hotel chains are branching out to offer smaller, cheaper, more design focused outlets geared toward a millennial market. Investors in the hotel sector would do well to invest in these projects clustered around city centers with plenty of access to affordable travel and transport links, with attractions that are popular with a younger, more mobile traveler.
Industrial
The evolving face of manufacturing, e-commerce, and distribution is driving trends in industrial real estate. A boom in digital shopping and e-commerce has ushered in a need for more inventory space to accommodate. Daily delivery and automated manufacturing methods are both doing their part to add to this. This also demands more accommodating inventory spaces that can pack in more goods with less packaging, in a more environmentally friendly footprint.
Industrial real estate may shrink in physical space to accommodate faster moving parcels, but they may grow in number and logistics and move closer to large markets to reach the demand for a quick turnaround of goods. A decrease in foreign investment or possible increase in restrictions on foreign investment is tipping the scales in favor of local real estate investors to grow their industrial portfolio.
The Current State Of The South Florida Real Estate Market
According to a late 2016 survey cited by the Miami Herald in January of this year, polling experts from South Florida regional real estate investors, brokers, lenders, and developers across all spectrums of Florida real estate types, including industrial, commercial, residential, etc., the flourishing South Florida real estate market is on track for continued high sales throughout 2017.
A briefly tenuous business period followed the national election in the fourth quarter of 2016. But, by the time of the Herald's January report, stock market and other indicators were reflecting a marked favorable response by US investors. This shift permitted the real estate market pollsters, Berger Singerman (a prestigious Brickell Avenue business law firm) to safely to attribute strong positive projections to a combination of the outcome of the presidential election and the continued growth of the US domestic economy. Here is an abbreviated summary of the annual survey's findings.
Commercial
Real estate experts have offered optimistic 2017 projections for South Florida's commercial real estate market. The Herald's cited annual survey indicates that the majority of experts polled believe that the commercial market will realize an increase in 2017 over 2016.
It is believed that the rising stock market trends and commensurate increases in consumer confidence represent strong confidence in the near future of the US economy, and that increasing economic confidence naturally brings increased confidence in real estate market investment.
Industrial
The industrial sector (warehousing and manufacturing space) is firmly predicted to realize the highest ROI in 2017, due to the immense growth of e-commerce and that industry's rapidly increasing need for large warehouse and distribution space.
Alternatively, the online commerce growth adversely impacts projections for retail real estate along the South Florida coast.
Retail
With the advent of the new age of vast e-commerce distribution centers, demand for traditional retail space is predicted to decline. Additionally, steady increase in import and export trade accounts for further increasing need for industrial warehousing and distribution facility space.
Demographic impacts on investment preferences are an increasing factor in South Florida real estate investment. Younger investors show more confidence in the industrial/warehouse market segment because they prefer the perceived lower risk associated with typically less investment required to position industrial space for resale, compared to the costs of transforming residential space to accommodate taste trends, for example.
Hospitality
South Florida's hotels and other hospitality real estate continued realizing robust ROI during the first half of 2017. However, this market segment has not escaped the impacts of alternative lodging resources now available to South Florida tourists. Rapid growth in the new "sharing economy" has expanded the breadth of AirBNB and other such innovations in accommodations.
The new express B&B style competitors are expected, by nearly 70 percent of regional real estate investment experts, to have a negative impact the region's vast hospitality market through the remainder of 2017. In fact, they view the hospitality market incursion as the most disruptive of all South Florida real estate market impactors over the remainder of the year.
Residential
Even with uncertainties about the endurance of US relationships abroad in 2017, especially with some EU member states and China, the majority of experts surveyed determined that South Florida will continue to enjoy 2016 levels of foreign investment through 2017. The large share of foreign investment is predicted to continue streaming from China, and Latin America. Appreciable investments are also anticipated from Canada, Europe, and the Middle East.
Respondents, overall, estimate that low inventories of industrial properties with a simultaneous surplus of residential properties is the single most concerning issue bearing on the region's real estate market this year.
Overall
Although 2016 results and the substance of rationales for 2017 market projections have strengthened investors' confidence in the South Florida regional real estate investment market, at least for now, the survey of regional real estate experts does expose significant concerns. Potential adverse impacts to the market from currently unknowable directions of US global relations with various foreign blocs, and uncertain global economic conditions were indicated as major cautionary factors in evaluation the prospects for sustained strength of the real estate market in South Florida throughout the remainder of this year.
The Latest Happenings In The Commercial Real Estate Market in Sin City:

Current market research from Colliers' Las Vegas Colliers, one of the world's most respected in real estate market analysis, has provided the following summary of the most recent events and trends across all segments of the Las Vegas commercial real estate market.
Las Vegas Commercial Real Estate Market Second Quarter Report, 2017
Positioned For Increasing Growth
The University of Nevada Las Vegas (UNLV) Center for Business and Economic Research (CBER) (largely funded by the state of Nevada), estimates that the Las Vegas economic growth rate is on track to increase through late 2017 and early 2018.
The UNLV data reflects that unemployment in the Las Vegas-Henderson-Paradise metropolitan statistical area (MSA) was down 1.6%, from 6.4% in May 2016 to 4.8% in May 2017. This is a marked decrease, bringing the region in line with the national rate of 4.3% (down 0.4% from May 2016). Colliers notes that although the Las Vegas rate is still above the national unemployment figure, area unemployment has dropped more rapidly than the national average.
Colliers Las Vegas Real Estate Research reports attribute the brisk development in Southern Nevada through the first half of 2017 to this comparatively impressive improvement in employment numbers, among other local and regional economic factors.
Industrial
Overcoming Obstacles
The net absorption of 3.6 million square feet of industrial space and new construction of 3.7 million more, posted for the first half of 2017, together confirm that the industrial real estate market in Southern Nevada is flourishing. The current extent of new industrial building construction is especially encouraging.
On the other hand, during the same time, vacancy has edged up from 5.3% (third quarter 2016) to currently 5.4 percent. A modest improvement during the second quarter of 2017 has brought vacancy down slightly (by 0.1%) from the start of the year. Overall, asking rates in the valley are currently $0.64 per square foot (weighted average), down a negligible $0.01 from the first quarter.
Retail
Acceleration
The last two quarters of 2016 were strong for Southern Nevada's retail real estate market. The market segment experienced a temporary slow-down during the first quarter of 2017, then bounced back with high demand during the second quarter. Additional improvement is anticipated through the remainder of 2017. The asking rate for retail space in Nevada's city of lights during the second quarter has been $1.36 per square foot (psf) (on a triple net lease (NNN) agreement), which is unchanged from the first quarter.
Inventories are increasing, and pre-leasing in new construction projects is underway. Vacancies have been reduced to 8.3%. And, it is projected that that number could fall below 8.0% before the close of 2017.
Office
Strong Recovery
It's fair to say that the office space market in Southern Nevada has realized spectacular increases over recent months. In fact, the second quarter of 2017 brought the highest demand in the past nine quarters. This exciting quarter is the culmination of a five year recovery period in this segment of the Las Vegas real estate market. Net absorption was 545,955 square feet, reducing vacancy to just over 16%. Lease asking rates were stable at $2.02 psf. (This psf rate is based on Full Service Gross (FSG) leases.)
Medical Office
Notable Upturn
Largely due to the availability of a great amount of new medical office space in the area, the medical office market segment has enjoyed very strong net absorption over the past five quarters. These results appear to confirm that modern medical practices have criteria which are not met in many of the Las Vegas area's aging medical office spaces. Current asking rates for medical office leases average $2.22 psf on an FSG basis, which is up $0.03 psf.
Commercial Land
Rising Values
The recognized Colliers' Las Vegas commercial real estate analysts suggest that 2017 might be historically viewed as a post-recession year for Southern Nevada land sales—a time when prices increased significantly to become comparatively expensive, as they had been prior to the protracted decline. This is even though, following the end of the second quarter, 2017 acreage is now being sold at much lower rates than at this point in 2016. However, this year's sales ultimately could equal 2016 in volume.
An important mitigating factor to consider in the discrepancy over the first half of this year, compared to last year, is that the average price of land sold in 2017 to-date is $9.07 psf, vs. the 2016 average price of only $3.72 psf (and $6.24 psf in 2015).
Hospitality
In Suspense
Hospitality real estate sales in the Nevada's entertainment capital remained light for the first two quarters of 2017 in contrast to the same period in 2016. Last year, $1.6 billion of new investment dollars were infused into the Las Vegas hospitality real estate market. This year, investors appear to be waiting to see how their ventures are to realize returns.
Guest volume January - April 2017 was 14.1 million (0.2 million fewer than in the same period last year). This is although 2017 Gaming revenues were up by 4% over the same four-month period in early 2016.
The inventory of available rooms has not significantly increased in 2017 to-date. And, by Colliers' analysis, availability rates can be expected to remain steady through the year. Both the average Daily Room Rate (ADR) for Las Vegas lodgings as well as the revenue per available room (RevPAR) have increased from 2016.
Multi-family
Thriving Development
Vacancy on multi-unit residential income properties during the first quarter of 2017 was reduced by 0.8 points from the same period last year. According to statistics provided by REIS, a publically held Manhattan based real estate data and analysis firm, Southern Nevada vacancy of multi-family units increased to 3.3% (which is up 0.1 point from 2016) during the first quarter of 2017. (Second quarter data is not yet available.)
First quarter vacancies on Class A properties were 3.7%, up 0.1 point from late 2016. And, Class B and C vacancies were at 2.8%, which was unchanged from fourth quarter 2016.
Overview
Steady, Modest Growth Through 2017
Based on the UNLV's report of encouraging improvements in employment numbers, and Collier's 2016-2017 data on reduction in retail vacancy, strong demand for office and medical office space, steady performance of the hospitality market, impressive amounts of new construction in the industrial market, and the rise in commercial land prices, it appears that Las Vegas real estate investors can expect sound performance across commercial markets in the valley, at least through the remainder of 2017 and into early 2018.

New Commercial Real Estate Projects in the Atlanta MSA
Metro Atlanta commercial construction currently abounds with stadium projects and related development. And, widespread major investments in suburban commercial satellite centers, complete a clear picture of exceedingly robust Atlanta regional development at mid-year 2017.
There is a notable trend across many of the projects, in the form of a cultural shift in office preferences from Buckhead's prestige to the charm of downtown's walkable work lifestyle. This shift Southward from Buckhead toward downtown leads through Midtown, which is becoming the preferred office locale for tech employers catering to millennials who want excitement and growth. And, Buckhead remains the choice for companies who want an upscale office environment, for long established Buckhead firms, for financial services, insurance brokerages, real estate companies, and others.
Supporting Atlanta's numerous commercial development projects, multiple major infrastructure projects are in various stages of planning or construction.
Collectively, billions of dollars are being infused this year into commercial development progress in the Atlanta metropolitan statistical area (MSA), a twenty-nine-county area spread rather evenly outward in all directions from downtown Atlanta to a roughly seventy-mile radius.
Multiple Stadium Construction Projects
SunTrust Park: The Atlanta Braves debuted the new $1 billion SunTrust Park in April. Development remains underway on much of the adjacent $550 million Battery. After completion, projected within the next year or so, the mixed-use Battery will feature 1.5 million square feet of retail shops, restaurants, bars, a concert venue, a tower of office spaces, a luxury hotel, and upscale residential units. The Battery project, owned by the team and its partners in the development, is anticipated to have wide-ranging effects in Cobb County.
Mercedes-Benz Stadium: The downtown $1.5 billion Mercedes-Benz Stadium is projected to open in late August 2017, in time for the Falcon's first preseason home game. The stadium will also be the venue for part of the first season of the new Atlanta United professional soccer team.
Georgia Dome: The facility is or demolition in November 2017. A hotel for conventions and a park are to replace it. The park is intended to convert to use as premium parking during events.
Phillips Arena: The Atlanta Hawks have a $192.5 million renovation plan for Philips Arena. The City of Atlanta has agreed to pay $142.5 million of the cost, anticipating that the update will vitalize redevelopment of downtown areas, among which is The Gulch, a strip of railway beds and parking lots.
Turner Field: The stadium will remain in use throughout the fall season, but Georgia State University is planning major renovations to the facility over the coming years. The larger project involves a much longer process, undertaken with private developers, to reimagine the area around the stadium to provide a mix of student housing, other apartments and single-family homes, restaurants, retail shops, and a grocery store, among other improvements to service the GSU neighborhood.
Upgrades to the Underground
After two years of negotiation, South Carolina developer WRS Real Estate Investments has finalized its purchase of the vast Underground Atlanta. The old mall's much anticipated redevelopment is essential to the economic future of downtown Atlanta. WRS's $300 million project includes new retail shops, student housing, apartments, and a grocery store. Currently, the developer is engaged in an 18-month preconstruction planning process.
Other Mixed-Use Projects
In addition to the Battery, a number of mixed-use office, retail, and multi-family residential developments are underway, including these major projects:
Apogee Midtown: Midtown (the area north of downtown, between downtown and Buckhead) will see the opening of several new high-rise apartment buildings in 2017. These include The Apogee Midtown development, which includes a Whole Foods market. Apogee is a project of Related Group, a Miami developer.
Colony Square: The property will undergo a transformation, complements of North American Properties, to include new retail shops and restaurants.
Technology Square: The project's second phase, named Coda, broke ground late in 2016, and will be largely completed in 2017. The anchor tenant will be Georgia Tech. The development will also include retail shops and private-sector office space.
Selig Enterprises project: Selig, a well-established real estate investment company in Atlanta, starts construction this year on its $400 million project. The development will include a hotel, an office tower, and high-rise condominiums.
Strengthening Suburban Cores
Atlanta area suburbs are working to create denser local centers of mixed-use development.
City Springs: Sandy Springs, developed in conjunction with Carter real estate company, celebrated the construction project with its topping out ceremony in January. The complex is expected to be completed by mid-year 2018. It is anticipated to house a new City Hall, retail shops and restaurants, and a performing arts center.
Shops at Belmont and Jonquil: The Smyrna area has recently grown with the opening the mixed-use Shops at Belmont, developed by Halpern Enterprises. Halpern's next new mixed-use complex, Jonquil, also will add growth to Smyrna, with its own new residences, shops, and restaurants.
High Street: The initial phase of the High Street project is to expand across eight-million square feet. The new mixed-use city center complex, near Perimeter Mall in the Atlanta suburb of Dunwoody, is to be developed by GID Holdings. The area will include office spaces, thousands of condos and apartments, and temporary lodging, to be constructed over a number of years.
Perimeter Summit: Seven Oaks development company is constructing a new tower at Perimeter Summit.
Perimeter Mall: Transwestern has a new high-rise office building under construction adjacent to the Perimeter Mall.
Aria: The new Sandy Springs headquarters for Mercedes-Benz USA is under construction. Along that area of Abernathy Road, Ashton Woods builders are beginning work on Aria, a mixed-use development of retail shops and residences.
Infinite Energy Center: In Gwinnett County, adjacent to Atlanta's Fulton County, development of planned community for living, working, and recreating at the Infinite Energy Center. The complex is intended to feature sporting events, including a hockey schedule, musical and other entertainment events. The county's convention and visitors bureau chose Avalon to head the project.
Infrastructure Projects Facilitate Commercial Growth
Encouraging commercial development are multiple grand infrastructure projects, which together promise to facilitate access to metro area entertainment features and sports attractions, and to enhance the appeal of work complexes cropping up in the city, as office residents of the Buckhead commercial district and other metro area office enclaves are becoming increasingly drawn to the vibrant downtown atmosphere and its walkable access to shops, cafes, and bars.
Transit: Fulton County voters in 2016 approved several taxes, which collectively are expected to generate approximately $950 million for improvements to metro Atlanta's roads and bridges.
Westside Trail: Community planning is underway to correct street layout issues and improve walkability of the area around the transit stations. The Westside Trail section of the beltline is currently under construction, and is attracting attention from development speculators.
Airport: Hartsfield-Jackson International Airport, rated by the FAA as the world's busiest airport each year since 2000, is to begin the initial phases of a 20-year, $6 billion improvement project. Upgrades will include expansive canopies to be installed above curbside areas and updates to passenger gate areas. An InterContinental Hotel is also planned for construction beside the domestic terminal. Work is expected to start sometime in 2018. Hapeville, near the airport has plans for a luxury hotel. (And, other tracts near the airport are also being shopped by prospective developers.)
MARTA over Ga. 400: In addition to anticipated deck park space development in Atlanta proper, Buckhead has proposed its own development of public spaces. Buckhead is looking to invest $195 million to $245 million for trails and for a gateway to the completed MARTA over Ga. 400.
Overall
The former mode of development in metropolitan Atlanta was surburban sprawl. But, these days, the metro area municipalities are planning for greater density around their satellite city centers. And, the fact that downtown and Midtown Atlanta are increasingly sought as the region's preferred office spaces for Atlanta's millennials has spurred vast development. With all of the stadium projects and other major commercial developments happening simultaneously, Atlanta remains an unequivocally thriving area of development in 2017
It is interesting to note, however, that the overall real estate markets in the large states - Florida, Texas, California and Nevada are considerably heating up. This ominously gives recognition to the 2008 real estate and financial markets disastrous collapse.