Commercial Real Estate Info - Providing Information And Current Industry Events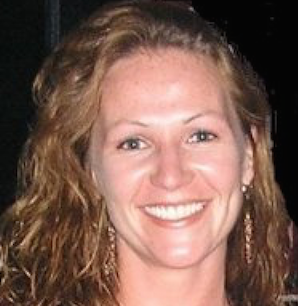 Marchelle Marie Lamaster (Courtesy Google Photos)

Latest News & Lawsuit Filings: 
8/7/2017 News:
On her TBREIA.com profile, Marchelle Lamaster Claims To Be The "Economic Development Chair For CONA". However, We've Just Received An Email From Ms Murray, President, That There Is No Economic Development Committee At CONA. It Appears That Ms Lamaster Is Claiming Again That She Is Part Of A Group That She Is Not. The Email Is Attached.

---------------------------------------------------------------------------------------------------------------------------------------------------
8/4/2017 News:
Marchelle Lamaster -- Suspended Member Of The Florida Gulf Coast Commercial Association Of Realtors (FGCAR.com) Despite What Is Stated In Her TBREIA.com Profile.

---------------------------------------------------------------------------------------------------------------------------------------------------
8/3/2017 News:
Marchelle Lamaster's Suspension And Immediate Removal Sought By The Tampa Bay Real Estate Investors Association (TBREIA.com) Ethics Committee Board.
---------------------------------------------------------------------------------------------------------------------------------------------------
Before Engaging Any Real Estate Broker Or Agent On Your Behalf, Conduct A Thorough Online Background Check Of Their Ethics & Tenure To Ensure That You Are Making The Best Possible Choice For Your Specific Needs.
It Should Be Pointed Out That Ethics Complaints Have Been Filed Against Ms Lamaster With DBPR In Orlando And The TBREIA (Tampa Bay Real Estate Investors Association) As Well As Other Regulatory Bodies And Industry Organizations.
(1) Real Estate Broker
Marchelle Lamaster
Sued for Alleged Tort of Battery In The Harming Of Lawrence Todd Maxwell:
Tort Battery Case Filed in St Petersburg, Florida
St Petersburg, FL, July 26, 2017 --(PR.com)-- As of Public Record Tort Battery case recently filed in Pinellas County - St Petersburg, Florida. Defendant - Marchelle Marie Lamaster. Plaintiff - Lawrence Todd Maxwell.

Case Number 17-004514-CI - Pinellas County, Florida Clerk of Courts
It is important to note that the Plaintiff has written email and text confirmation from the Defendant confessing to the claims in the action and illegalities she committed in this action. This evidence will be presented at the time of trial.
----------------------------------------------------------------------------------------------------------------------------------------------------------------------------
(2) Real Estate Broker Marchelle Lamaster Sued By Lawrence Todd Maxwell For Indebtedness And Unjust Enrichment :

Civil Case Filed in St Petersburg (Pinellas County), Florida
St Petersburg, FL, July 31, 2017 --(
PR.com
)-- As of the public record, this action was filed for indebtedness dating back several months. Plaintiff - Lawrence Todd Maxwell / MX Properties, Inc. Defendant - Marchelle Lamaster / Master Investments RE Group, LLC
Case Number 17-005772-CO - Pinellas County, Florida Clerk of Courts
It is important to note that the Defendant itself has attempted to reach a direct settlement (absent legal counsel on both sides) with the Plaintiff who considers the offer quite insulting given the extreme magnitude of its monetary losses. The Plaintiff possesses substantial and empirical proof that this "offer" is nothing more than a sarcastic attempt by the Defendant to minimize the depth at which the Plaintiff has suffered at the hands of the Defendant - Marchelle Lamaster and Master Investments RE Group, LLC of St Petersburg, Florida. Evidence of the true nature of the actual losses of the Plaintiff will be clearly shown at trial.
----------------------------------------------------------------------------------------------------------------------------------------------------------------------------
(3) Marchelle Lamaster - Civil Theft Admission & Repayment:
For The Record, There Is NOT A Non-Disclosure Agreement Between Real Estate Broker Marchelle Lamaster And Todd Maxwell In Her Admission For Violating Florida Statute 772.11 (Civil Theft) And The Credit Card Fraud That Marchelle Lamaster Perpetrated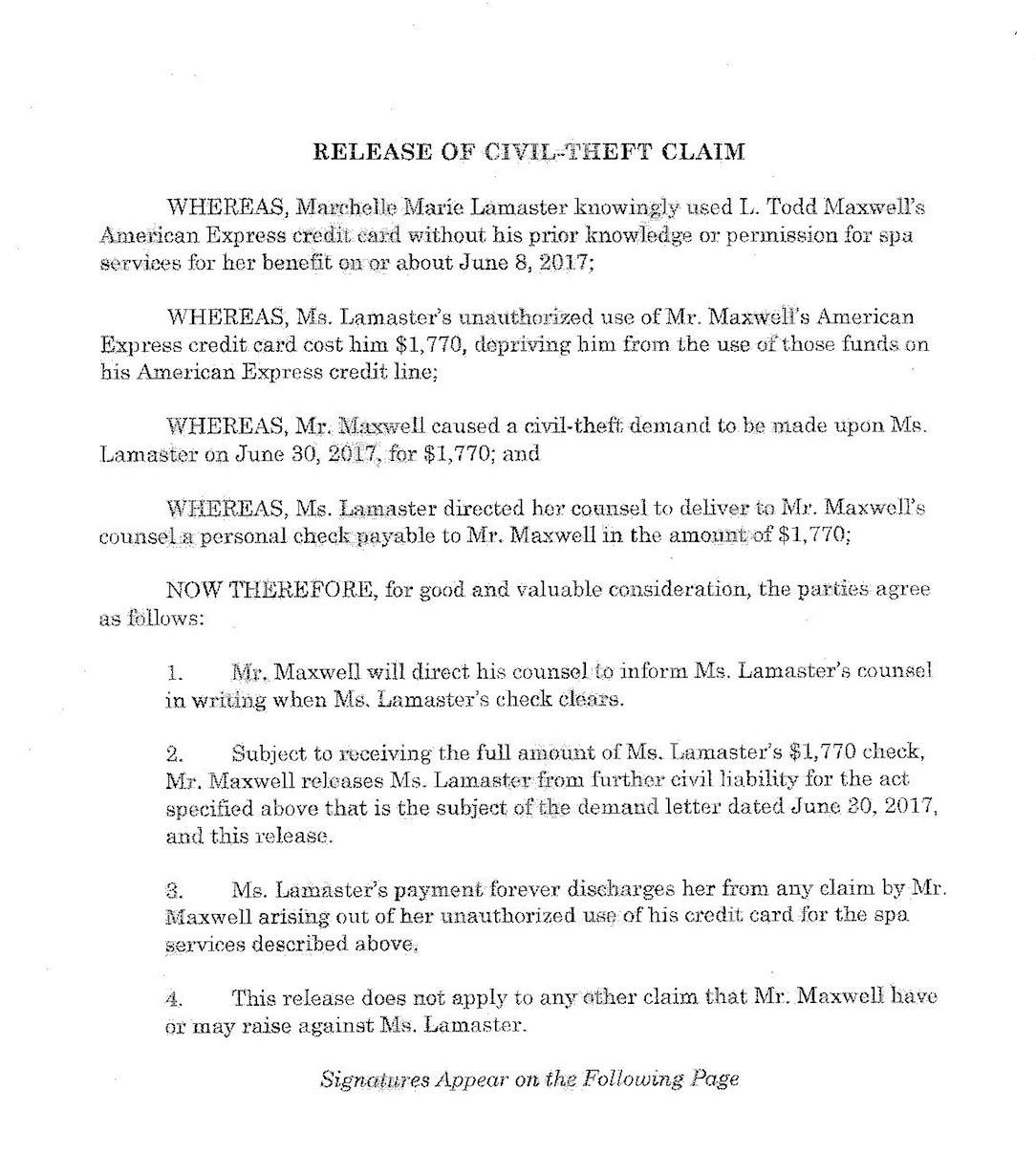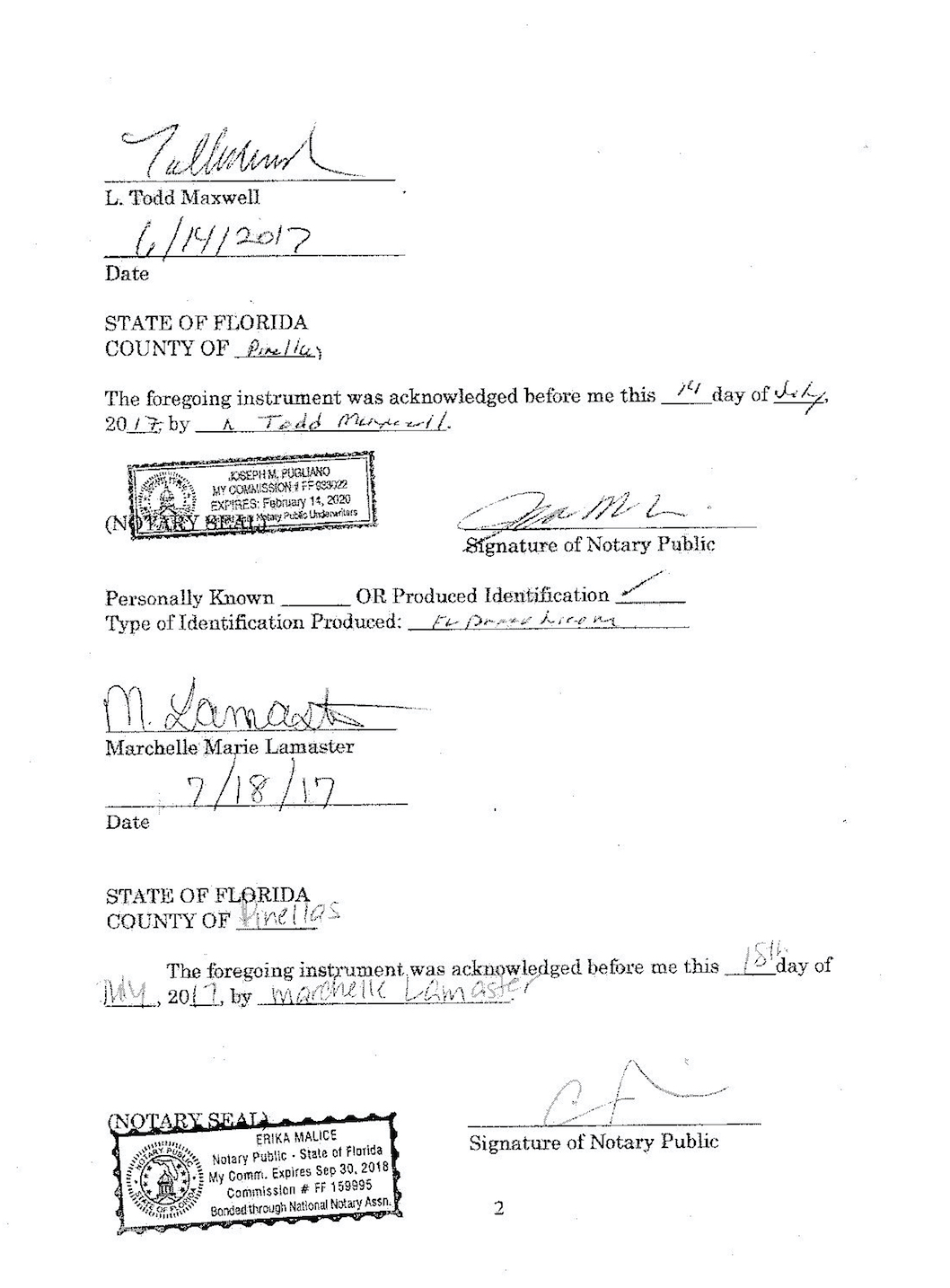 ----------------------------------------------------------------------------------------------------------------------------------------------------------------------------
Information Regarding The Basic Components Of The Commercial Real Estate Market
In a rather fickle global and national economy, commercial real estate investments still continue to hold out as a smart move. Though events of the past year have significantly impacted on the commercial real estate environment in 2017, with a number of trends emerging. This has ushered in increased popularity in some surprising components, which we have outlined below:
Homes
The demand for new homes and master-planned communities is on the rise with improved household incomes and a growing population of millennials that need homes. The number of housing starts is projected to grow throughout the rest of 2017, eclipsing 2016 numbers. Though the growth is often hampered by labor shortages and permit issuing delays, which pushes the number of completed projects down and creates a backlog.
Home prices are also expected to grow, though at a much slower pace than previous years, because of these limits to supply and inventory. More regional areas of the United States, such as the Midwest are benefiting from increased demand due to job growth in the area and lower home prices than its more coastal or metropolitan counterparts.
Better home mortgage and delinquency rates are also improving the overall outlook, yet this could easily be tethered by a rise in interest rates despite more relaxed residential mortgage guidelines. The situation also prompts a popular rental environment which can be advantageous to real estate investors. Rental demand and values have remained strong, especially with builders who want to diversify. Taking advantage of this is influencing builders' business models and aligning them more with multi-family home building.
The same demand in smaller markets present in homebuilding real estate is also showing up in the retail sector. This area can often be the most fragile, with store real estate investments coming in well below more major real estate types, especially in terms of new developments. Though more niche retail operations in urban areas and localized offerings are acting to change this sector for the better.
To follow the positive trajectory, retail real estate investors are shifting their focus to smaller, more lifestyle anchored projects. Often these are part of more mixed use developments, with lifestyle and food and beverage options all in one spot. While overall retail has shifted from the country's original major power players from Fifth Avenue, to Rodeo Drive to include lesser known and even regenerated areas as well as a booming e-commerce sector. As the customer base fans out, investors are finding that they can find tenants for small, yet high priced spaces that better cater to the holistic needs of the market. The strategy remains similar in their desire to scale up these properties to create hefty portfolios.
Hotels
The hotel commercial real estate arena is increasingly influenced by a younger millennial generation that demands a blend of luxury of their professional adult lives and the ease and economics of travel of their student hostelling days. Thus hostel projects are beginning to incorporate hotel elements such as bars, bespoke design touches, and en suite facilities. Investors in hotel commercial real estate are well served in catering to this demand as more and more hotel projects emerge that accommodate for this upscale economy trend.
Indeed even big name hotel chains are branching out to offer smaller, cheaper, more design focused outlets geared toward a millennial market. Investors in the hotel sector would do well to invest in these projects clustered around city centers with plenty of access to affordable travel and transport links, with attractions that are popular with a younger, more mobile traveler.
Industrial
The evolving face of manufacturing, e-commerce, and distribution is driving trends in industrial real estate. A boom in digital shopping and e-commerce has ushered in a need for more inventory space to accommodate. Daily delivery and automated manufacturing methods are both doing their part to add to this. This also demands more accommodating inventory spaces that can pack in more goods with less packaging, in a more environmentally friendly footprint.
Industrial real estate may shrink in physical space to accommodate faster moving parcels, but they may grow in number and logistics and move closer to large markets to reach the demand for a quick turnaround of goods. A decrease in foreign investment or possible increase in restrictions on foreign investment is tipping the scales in favor of local real estate investors to grow their industrial portfolio.
----------------------------------------------------------------------------------------------------------------------------------------------------------------------------
The Current State Of The South Florida Real Estate Market
According to a late 2016 survey cited by the Miami Herald in January of this year, polling experts from South Florida regional real estate investors, brokers, lenders, and developers across all spectrums of Florida real estate types, including industrial, commercial, residential, etc., the flourishing South Florida real estate market is on track for continued high sales throughout 2017.
A briefly tenuous business period followed the national election in the fourth quarter of 2016. But, by the time of the Herald's January report, stock market and other indicators were reflecting a marked favorable response by US investors. This shift permitted the real estate market pollsters, Berger Singerman (a prestigious Brickell Avenue business law firm) to safely to attribute strong positive projections to a combination of the outcome of the presidential election and the continued growth of the US domestic economy. Here is an abbreviated summary of the annual survey's findings.
Commercial
Real estate experts have offered optimistic 2017 projections for South Florida's commercial real estate market. The Herald's cited annual survey indicates that the majority of experts polled believe that the commercial market will realize an increase in 2017 over 2016.
It is believed that the rising stock market trends and commensurate increases in consumer confidence represent strong confidence in the near future of the US economy, and that increasing economic confidence naturally brings increased confidence in real estate market investment.
Industrial
The industrial sector (warehousing and manufacturing space) is firmly predicted to realize the highest ROI in 2017, due to the immense growth of e-commerce and that industry's rapidly increasing need for large warehouse and distribution space.
Alternatively, the online commerce growth adversely impacts projections for retail real estate along the South Florida coast.
Retail
With the advent of the new age of vast e-commerce distribution centers, demand for traditional retail space is predicted to decline. Additionally, steady increase in import and export trade accounts for further increasing need for industrial warehousing and distribution facility space.
Demographic impacts on investment preferences are an increasing factor in South Florida real estate investment. Younger investors show more confidence in the industrial/warehouse market segment because they prefer the perceived lower risk associated with typically less investment required to position industrial space for resale, compared to the costs of transforming residential space to accommodate taste trends, for example.
Hospitality
South Florida's hotels and other hospitality real estate continued realizing robust ROI during the first half of 2017. However, this market segment has not escaped the impacts of alternative lodging resources now available to South Florida tourists. Rapid growth in the new "sharing economy" has expanded the breadth of AirBNB and other such innovations in accommodations.
The new express B&B style competitors are expected, by nearly 70 percent of regional real estate investment experts, to have a negative impact the region's vast hospitality market through the remainder of 2017. In fact, they view the hospitality market incursion as the most disruptive of all South Florida real estate market impactors over the remainder of the year.
Residential
Even with uncertainties about the endurance of US relationships abroad in 2017, especially with some EU member states and China, the majority of experts surveyed determined that South Florida will continue to enjoy 2016 levels of foreign investment through 2017. The large share of foreign investment is predicted to continue streaming from China, and Latin America. Appreciable investments are also anticipated from Canada, Europe, and the Middle East.
Respondents, overall, estimate that low inventories of industrial properties with a simultaneous surplus of residential properties is the single most concerning issue bearing on the region's real estate market this year.
Overall
Although 2016 results and the substance of rationales for 2017 market projections have strengthened investors' confidence in the South Florida regional real estate investment market, at least for now, the survey of regional real estate experts does expose significant concerns. Potential adverse impacts to the market from currently unknowable directions of US global relations with various foreign blocs, and uncertain global economic conditions were indicated as major cautionary factors in evaluation the prospects for sustained strength of the real estate market in South Florida throughout the remainder of this year.
----------------------------------------------------------------------------------------------------------------------------------------------------------------------------
The Latest Happenings In The Commercial Real Estate Market in Sin City:

Current market research from Colliers' Las Vegas Colliers, one of the world's most respected in real estate market analysis, has provided the following summary of the most recent events and trends across all segments of the Las Vegas commercial real estate market.
Las Vegas Commercial Real Estate Market Second Quarter Report, 2017
Positioned For Increasing Growth
The University of Nevada Las Vegas (UNLV) Center for Business and Economic Research (CBER) (largely funded by the state of Nevada), estimates that the Las Vegas economic growth rate is on track to increase through late 2017 and early 2018.
The UNLV data reflects that unemployment in the Las Vegas-Henderson-Paradise metropolitan statistical area (MSA) was down 1.6%, from 6.4% in May 2016 to 4.8% in May 2017. This is a marked decrease, bringing the region in line with the national rate of 4.3% (down 0.4% from May 2016). Colliers notes that although the Las Vegas rate is still above the national unemployment figure, area unemployment has dropped more rapidly than the national average.
Colliers Las Vegas Real Estate Research reports attribute the brisk development in Southern Nevada through the first half of 2017 to this comparatively impressive improvement in employment numbers, among other local and regional economic factors.
Industrial
Overcoming Obstacles
The net absorption of 3.6 million square feet of industrial space and new construction of 3.7 million more, posted for the first half of 2017, together confirm that the industrial real estate market in Southern Nevada is flourishing. The current extent of new industrial building construction is especially encouraging.
On the other hand, during the same time, vacancy has edged up from 5.3% (third quarter 2016) to currently 5.4 percent. A modest improvement during the second quarter of 2017 has brought vacancy down slightly (by 0.1%) from the start of the year. Overall, asking rates in the valley are currently $0.64 per square foot (weighted average), down a negligible $0.01 from the first quarter.
Retail
Acceleration
The last two quarters of 2016 were strong for Southern Nevada's retail real estate market. The market segment experienced a temporary slow-down during the first quarter of 2017, then bounced back with high demand during the second quarter. Additional improvement is anticipated through the remainder of 2017. The asking rate for retail space in Nevada's city of lights during the second quarter has been $1.36 per square foot (psf) (on a triple net lease (NNN) agreement), which is unchanged from the first quarter.
Inventories are increasing, and pre-leasing in new construction projects is underway. Vacancies have been reduced to 8.3%. And, it is projected that that number could fall below 8.0% before the close of 2017.
Office
Strong Recovery
It's fair to say that the office space market in Southern Nevada has realized spectacular increases over recent months. In fact, the second quarter of 2017 brought the highest demand in the past nine quarters. This exciting quarter is the culmination of a five year recovery period in this segment of the Las Vegas real estate market. Net absorption was 545,955 square feet, reducing vacancy to just over 16%. Lease asking rates were stable at $2.02 psf. (This psf rate is based on Full Service Gross (FSG) leases.)
Medical Office
Notable Upturn
Largely due to the availability of a great amount of new medical office space in the area, the medical office market segment has enjoyed very strong net absorption over the past five quarters. These results appear to confirm that modern medical practices have criteria which are not met in many of the Las Vegas area's aging medical office spaces. Current asking rates for medical office leases average $2.22 psf on an FSG basis, which is up $0.03 psf.
Commercial Land
Rising Values
The recognized Colliers' Las Vegas commercial real estate analysts suggest that 2017 might be historically viewed as a post-recession year for Southern Nevada land sales—a time when prices increased significantly to become comparatively expensive, as they had been prior to the protracted decline. This is even though, following the end of the second quarter, 2017 acreage is now being sold at much lower rates than at this point in 2016. However, this year's sales ultimately could equal 2016 in volume.
An important mitigating factor to consider in the discrepancy over the first half of this year, compared to last year, is that the average price of land sold in 2017 to-date is $9.07 psf, vs. the 2016 average price of only $3.72 psf (and $6.24 psf in 2015).
Hospitality
In Suspense
Hospitality real estate sales in the Nevada's entertainment capital remained light for the first two quarters of 2017 in contrast to the same period in 2016. Last year, $1.6 billion of new investment dollars were infused into the Las Vegas hospitality real estate market. This year, investors appear to be waiting to see how their ventures are to realize returns.
Guest volume January - April 2017 was 14.1 million (0.2 million fewer than in the same period last year). This is although 2017 Gaming revenues were up by 4% over the same four-month period in early 2016.
The inventory of available rooms has not significantly increased in 2017 to-date. And, by Colliers' analysis, availability rates can be expected to remain steady through the year. Both the average Daily Room Rate (ADR) for Las Vegas lodgings as well as the revenue per available room (RevPAR) have increased from 2016.
Multi-family
Thriving Development
Vacancy on multi-unit residential income properties during the first quarter of 2017 was reduced by 0.8 points from the same period last year. According to statistics provided by REIS, a publically held Manhattan based real estate data and analysis firm, Southern Nevada vacancy of multi-family units increased to 3.3% (which is up 0.1 point from 2016) during the first quarter of 2017. (Second quarter data is not yet available.)
First quarter vacancies on Class A properties were 3.7%, up 0.1 point from late 2016. And, Class B and C vacancies were at 2.8%, which was unchanged from fourth quarter 2016.
Overview
Steady, Modest Growth Through 2017
Based on the UNLV's report of encouraging improvements in employment numbers, and Collier's 2016-2017 data on reduction in retail vacancy, strong demand for office and medical office space, steady performance of the hospitality market, impressive amounts of new construction in the industrial market, and the rise in commercial land prices, it appears that Las Vegas real estate investors can expect sound performance across commercial markets in the valley, at least through the remainder of 2017 and into early 2018.

----------------------------------------------------------------------------------------------------------------------------------------------------------------------------
New Commercial Real Estate Projects in the Atlanta MSA
Metro Atlanta commercial construction currently abounds with stadium projects and related development. And, widespread major investments in suburban commercial satellite centers, complete a clear picture of exceedingly robust Atlanta regional development at mid-year 2017.
There is a notable trend across many of the projects, in the form of a cultural shift in office preferences from Buckhead's prestige to the charm of downtown's walkable work lifestyle. This shift Southward from Buckhead toward downtown leads through Midtown, which is becoming the preferred office locale for tech employers catering to millennials who want excitement and growth. And, Buckhead remains the choice for companies who want an upscale office environment, for long established Buckhead firms, for financial services, insurance brokerages, real estate companies, and others.
Supporting Atlanta's numerous commercial development projects, multiple major infrastructure projects are in various stages of planning or construction.
Collectively, billions of dollars are being infused this year into commercial development progress in the Atlanta metropolitan statistical area (MSA), a twenty-nine-county area spread rather evenly outward in all directions from downtown Atlanta to a roughly seventy-mile radius.
Multiple Stadium Construction Projects
SunTrust Park: The Atlanta Braves debuted the new $1 billion SunTrust Park in April. Development remains underway on much of the adjacent $550 million Battery. After completion, projected within the next year or so, the mixed-use Battery will feature 1.5 million square feet of retail shops, restaurants, bars, a concert venue, a tower of office spaces, a luxury hotel, and upscale residential units. The Battery project, owned by the team and its partners in the development, is anticipated to have wide-ranging effects in Cobb County.
Mercedes-Benz Stadium: The downtown $1.5 billion Mercedes-Benz Stadium is projected to open in late August 2017, in time for the Falcon's first preseason home game. The stadium will also be the venue for part of the first season of the new Atlanta United professional soccer team.
Georgia Dome: The facility is or demolition in November 2017. A hotel for conventions and a park are to replace it. The park is intended to convert to use as premium parking during events.
Phillips Arena: The Atlanta Hawks have a $192.5 million renovation plan for Philips Arena. The City of Atlanta has agreed to pay $142.5 million of the cost, anticipating that the update will vitalize redevelopment of downtown areas, among which is The Gulch, a strip of railway beds and parking lots.
Turner Field: The stadium will remain in use throughout the fall season, but Georgia State University is planning major renovations to the facility over the coming years. The larger project involves a much longer process, undertaken with private developers, to reimagine the area around the stadium to provide a mix of student housing, other apartments and single-family homes, restaurants, retail shops, and a grocery store, among other improvements to service the GSU neighborhood.
Upgrades to the Underground
After two years of negotiation, South Carolina developer WRS Real Estate Investments has finalized its purchase of the vast Underground Atlanta. The old mall's much anticipated redevelopment is essential to the economic future of downtown Atlanta. WRS's $300 million project includes new retail shops, student housing, apartments, and a grocery store. Currently, the developer is engaged in an 18-month preconstruction planning process.
Other Mixed-Use Projects
In addition to the Battery, a number of mixed-use office, retail, and multi-family residential developments are underway, including these major projects:
Apogee Midtown: Midtown (the area north of downtown, between downtown and Buckhead) will see the opening of several new high-rise apartment buildings in 2017. These include The Apogee Midtown development, which includes a Whole Foods market. Apogee is a project of Related Group, a Miami developer.
Colony Square: The property will undergo a transformation, complements of North American Properties, to include new retail shops and restaurants.
Technology Square: The project's second phase, named Coda, broke ground late in 2016, and will be largely completed in 2017. The anchor tenant will be Georgia Tech. The development will also include retail shops and private-sector office space.
Selig Enterprises project: Selig, a well-established real estate investment company in Atlanta, starts construction this year on its $400 million project. The development will include a hotel, an office tower, and high-rise condominiums.
Strengthening Suburban Cores
Atlanta area suburbs are working to create denser local centers of mixed-use development.
City Springs: Sandy Springs, developed in conjunction with Carter real estate company, celebrated the construction project with its topping out ceremony in January. The complex is expected to be completed by mid-year 2018. It is anticipated to house a new City Hall, retail shops and restaurants, and a performing arts center.
Shops at Belmont and Jonquil: The Smyrna area has recently grown with the opening the mixed-use Shops at Belmont, developed by Halpern Enterprises. Halpern's next new mixed-use complex, Jonquil, also will add growth to Smyrna, with its own new residences, shops, and restaurants.
High Street: The initial phase of the High Street project is to expand across eight-million square feet. The new mixed-use city center complex, near Perimeter Mall in the Atlanta suburb of Dunwoody, is to be developed by GID Holdings. The area will include office spaces, thousands of condos and apartments, and temporary lodging, to be constructed over a number of years.
Perimeter Summit: Seven Oaks development company is constructing a new tower at Perimeter Summit.
Perimeter Mall: Transwestern has a new high-rise office building under construction adjacent to the Perimeter Mall.
Aria: The new Sandy Springs headquarters for Mercedes-Benz USA is under construction. Along that area of Abernathy Road, Ashton Woods builders are beginning work on Aria, a mixed-use development of retail shops and residences.
Infinite Energy Center: In Gwinnett County, adjacent to Atlanta's Fulton County, development of planned community for living, working, and recreating at the Infinite Energy Center. The complex is intended to feature sporting events, including a hockey schedule, musical and other entertainment events. The county's convention and visitors bureau chose Avalon to head the project.
Infrastructure Projects Facilitate Commercial Growth
Encouraging commercial development are multiple grand infrastructure projects, which together promise to facilitate access to metro area entertainment features and sports attractions, and to enhance the appeal of work complexes cropping up in the city, as office residents of the Buckhead commercial district and other metro area office enclaves are becoming increasingly drawn to the vibrant downtown atmosphere and its walkable access to shops, cafes, and bars.
Transit: Fulton County voters in 2016 approved several taxes, which collectively are expected to generate approximately $950 million for improvements to metro Atlanta's roads and bridges.
Westside Trail: Community planning is underway to correct street layout issues and improve walkability of the area around the transit stations. The Westside Trail section of the beltline is currently under construction, and is attracting attention from development speculators.
Airport: Hartsfield-Jackson International Airport, rated by the FAA as the world's busiest airport each year since 2000, is to begin the initial phases of a 20-year, $6 billion improvement project. Upgrades will include expansive canopies to be installed above curbside areas and updates to passenger gate areas. An InterContinental Hotel is also planned for construction beside the domestic terminal. Work is expected to start sometime in 2018. Hapeville, near the airport has plans for a luxury hotel. (And, other tracts near the airport are also being shopped by prospective developers.)
MARTA over Ga. 400: In addition to anticipated deck park space development in Atlanta proper, Buckhead has proposed its own development of public spaces. Buckhead is looking to invest $195 million to $245 million for trails and for a gateway to the completed MARTA over Ga. 400.
Overall
The former mode of development in metropolitan Atlanta was surburban sprawl. But, these days, the metro area municipalities are planning for greater density around their satellite city centers. And, the fact that downtown and Midtown Atlanta are increasingly sought as the region's preferred office spaces for Atlanta's millennials has spurred vast development. With all of the stadium projects and other major commercial developments happening simultaneously, Atlanta remains an unequivocally thriving area of development in 2017
----------------------------------------------------------------------------------------------------------------------------------------------------------------------------
The Commercial Real Estate Market In San Diego

Insights into the activities of the San Diego County commercial real estate market, following the second quarter of 2017, are based on trends over the past four quarters since mid-year 2016.
Industrial
San Diego's North County industrial market (2017), located along the Pacific coastline, about 35 miles north of downtown San Diego. It consists of a decentralized array of cities including Escondido, Vista, Carlsbad, Oceanside, and San Marcos. Corporate real estate investors and nearly 850,000 residents are drawn by the appeal of its coastal location.
Vacancy is predicted to remain below 5% on average across the region's industrial market throughout 2017. Record low vacancy is expected to continue, even though new construction is approaching the highest level in a decade. Industrial (including R&D) rental rates have stabilized at a record high of $1.03 SF per month and are projected to steadily increase, while low vacancy rates are maintained. This is predicted even while inventory increases as new projects with higher rental rates are completed.
San Diego county-wide vacancy dropped to 4.8% or below throughout the county's submarkets in second quarter 2017, a 29 basis point (bps) reduction from the first quarter. All of the submarkets remain below 9% vacancy in industrial (non-R&D) space. Total vacancy decreased negligibly (8 bps) in industrial inventories to 3.7% from the first quarter to the end of Q2 2017. R&D vacancy decreased across the county to 7.8% (an 84 bps reduction).
Currently, 598,583 SF are under construction of industrial facilities, 281,563 SF of which is to be completed later this year (2017). In the third quarter, the 55,573 SF Carlsbad Victory Industrial Park (Badiee Development) will be completed. The new 79,050 SF Siempre Viva Business Park Building 17 in Otay Mesa will be finished (Murphy Development). A 64,300 SF facility in Carlsbad Oaks East Business Park (Techbilt Companies) will wrap up construction. And, an 82,640 SF building will be finished in Poway Corporate Center this year as well.
Office
Even supply and demand
Although San Diego County remained in a state of negative demand for office space throughout the first two quarters of 2017 (with negative absorption of 158,087 SF in total), this does not indicate a weakening of the vigorous regional office market. Large amounts of square area are scheduled to be absorbed during the second half of 2017, including city government office space downtown and Illumina in University Towne Centre.
These gains contribute to stabilization of demand in later 2017. Over the past six years, the area has enjoyed steady growth. And, construction is ongoing, with office real estate speculators scheduled to complete 512,133 SF of leasable space in late 2017 and an additional 247,766 SF or more in 2018. (Asking rates average $2.63 SF per month.)
Leasing declined 22% from the same period last year. In part, the reduction is due to increases in lease renewals, which are not reliably captured in reports of leasing activity. Though net positive absorption during 2017 is expected to be sustained, it is not predicted to be at rates as high as those from 2010 through 2016, during which average annual absorption was 1.1 million SF. 2017 absorption is more likely to be nearer 500,000 SF, reducing vacancy to about 11%. (Demand in Q2 throughout the county averaged –27,913 SF.
The largest decline in absorption over the past two quarters was at Rancho Bernardo (-51,024 SF), much accounted for by the new vacancy of the Sharp Rees-Stealy building (57,420 SF), and Mission Valley (-30,851 SF), largely due to several Valley Corporate Center and Centerside I tenants vacating a combined total of 39,969 SF in second quarter 2017.
Retail
High occupancy and low construction
Tech, military, medical, hospitality, and retail job gains are bolstering San Diego regional income growth and consumer spending. Numbers of new households in the area are steadily increasing, prompting completions of multi-family units to accommodate them. This dynamic yields numerous opportunities for area retailers reaping the rewards of meeting a growing population's needs for goods and services in convenient locations.
This developing trend has prompted consumer demand for urgent care outlets and professional medical offices to locate in retail spaces to provide convenient patient access. This increased demand is causing a shift to a more non-traditional tenant mix at regional retail shopping centers.
Additional retail space will become available later this year, in two projects at La Jolla's Westfield UTC providing a combined total of 400,000 SF. The remaining retail properties throughout the San Diego metro region consists of small spaces (under 10,000 SF).
Re-lease time is expected to be minimized by the absence of new retail inventories during 2017—a plus for San Diego retail property investors. Record low vacancy is predicted to motivate retail tenants to pay increased rates for premium space, which can be expected to offset the flattening of rates in some of the region's upscale submarkets.
Multi-family
Sustained growth projection
The San Diego local region has realized five consecutive years of job growth. Commensurately stable local economic conditions overall account for the apartment market's continued strength. Rent rates are predicted to maintain growth from 3-5% through the remainder of 2017.
The average multi-family sale price is at about $264 PSF, with the high end at $332 in the North Coastal region of the county, and the low end at $164 in the North Inland area east of the I15 corridor, and properties within the Central San Diego area selling at an average of $293 PSF.
Vacancy in San Diego proper is at around 3.4%, and county-wide vacancy is about 5%—which totals reflect the region's strong rental housing demand. This is although the SDCAA 2016 Fall Rental Survey revealed a spike in North County vacancy as a consequence of new apartment development in the Escondido and Vista satellite markets. And, the 2016 increase was from 2.6% in fourth quarter 2015.
There continues to be strong demand by investors seeking value-added and turnkey investment properties in the county. Further, a rather long-sustained stream of 1031 exchange capital fuels the San Diego real estate investment market. Interest rates have risen approximately 0.5% (50 bps) since mid-fourth quarter 2016. But, local lenders provide abundant access to financing for multi-family properties.
However, San Diego's most significant drop in construction during 2017 has been in multi-family development (50%). This has been largely attributed to the fact that so many multi-family building projects began in late 2016, causing a natural reduction in the number of permits issued in the first half of 2017.
Rental rates realized a higher rate of increase in San Diego County (11%) over the past year than any other Southern California county, out-performing Orange and Los Angeles counties (both at 7%), and Santa Barbara County (5%). This data is per the Real Estate Research Council Report, based on findings of Novato's Real Answers real estate research, as reported by the San Diego Union Tribune 6-5-17.
Hospitality
Managing supply surge
Positive momentum across a number of critical economic indicators are currently encouraging to California's tourism industry. Despite emergent uncertainties around the direction of federal tax, fiscal, and regulatory policies, the many indicators of continuing new job creation and steady consumption, consumer and business development confidence are both comparatively high. These factors appear very promising for San Diego travel through the remainder of 2017, contributing to a generally favorable forecast of conditions for hospitality investment.
Additionally, thousands of new upper mid-priced and high-end rooms have been added to the market, which could stimulate demand from prospective travelers previously priced out of the accommodations market in larger metro areas.
The 2017 increase in rooms is expected to flatten annual occupancy rates through the remainder of the year. Average daily room rates (ADR) and Revenue per available room (RevPAR) rates are also expected to level off in reaction to the increased supply . However, notwithstanding an unforeseen impacts on travel, California's long-range hospitality occupancy projections appear stable.
Overview
Record low industrial space vacancy (even with decade high new construction), a stable office real estate rental market, popular dynamics yielding multitudinous retail space investment opportunities, multi-family unit rental rates sustaining 3-5% growth throughout the year, and a stable hospitality market are all very promising signals of a healthy San Diego commercial market.
Potential impacts to the region that may yet stem from regulatory and fiscal volatility at the federal level in 2017 are acknowledged. However, ongoing job creation, stable rates of consumption, and strong confidence among business developers in the region, all together appear to amount to a year promising moderate but relatively reliable growth across the San Diego commercial market segments.

----------------------------------------------------------------------------------------------------------------------------------------------------------------------------

New Project Development in the St Petersburg Commercial Real Estate Market
Greater downtown St. Petersburg is under rapid development, to feature a new arts and retail environment. The new commercial atmosphere is to accommodate the city's quickly multiplying office and multi-family property residents. The heart of downtown is undergoing revitalization. Major projects are underway across the spectrum of commercial real estate development, including new research facilities, micro-breweries, cultural amenities, restaurants, retail shops, office spaces, and high-rise multi-family properties.
Public Recreation and Cultural Amenities
The Museum of the American Arts and Crafts Movement: A 5-story museum space of 172,000 square feet (SF) will be Tampa Bay's largest museum, at a development cost of $70 million. The new museum is currently under construction on 3.5 acres, located on 4th Avenue North (between 3rd and 4th Streets).
The James Museum of Western & Wildlife Art: At 100 Central Avenue, the new Western and Wildlife themed art museum is anticipated to open to the public in late 2017. Between 400 to 500 premier artworks will be on permanent display. In addition to the museum's 30,000 SF gallery space, it will also feature sculpture space, a store, a café, event space, and a 120-seat theater.
Retail
Downtown Waterfront: The Downtown Waterfront Master Plan, approved by the St. Petersburg City Council, included development of the downtown area extending along the waterfront from Lassing Park to the Coffee Pot Bayou. The plan will link the waterfront to an array of amenities and activities for area residents and visitors. It will also expand utilization of assets key to metro area economic development, including the St. Petersburg Port and the St. Petersburg Municipal Marina.
Pier Park: The new $46 million St. Petersburg pier development, was approved by the City Council back in May 2015. Construction on the 34-acre site is scheduled to continue throughout 2017. Plans include a market, education center, a public park with gardens and a splash pad. Construction of the new waterfront commercial sites and amenities is expected to be finished in late 2018.
ONE St. Petersburg: More than 17,000 SF of retail space will be included, along with a hotel and multi-family development, in the mixed-use project at at Beach Drive NE and Straub Park. Construction is expected to be completed in 2018.
Hospitality
Pheil Hotel site development: Red Apple Group (a New York development firm), purchased both the old Pheil Hotel (built in the 1920s) and the adjacent old bank building. Demolition of both buildings began in late 2016. The land, which is among the downtown area's most valuable remaining for development, sold to Red Apple for an undisclosed price above the $15 million asking price. It is anticipated that the new development will include 40-story mixed-use building as well as a hotel at 400 Central Ave.
The Galaxy Hotel: The boutique hotel will be 11 floors, with a total of 100 rooms, located at located at 316 1st Street North.
ONE St. Petersburg: A 13-story hotel with 174 rooms (adjacent to the 41-story condominium tower) will be included in the previously mentioned mixed-use high-rise project.
Office
400 Central Ave site: In addition to the hotel to be constructed as part of Red Apple Group's new project at the 400 Central Ave site, St. Petersburg has pushed the city's case to Red Apple for development of a significant number of offices spaces at that location.
490 First Building: 113,000 SF of office space, sold by the Tampa Bay Times is to become available during 2017, after renovations are completed. (The newspaper will continue to occupy three floors of the building.)
Echelon City Center: A 2.8 million SF mixed-use project has been proposed for Carillon Park, to include office spaces, retail shops, multi-family, and a boutique hotel. The projected timeline for development is five to seven years, at a total cost estimated between $600 - $700 million.
Industrial
Power Design: The nation-wide electrical contractor is investing more than $3 million into expansion of its 70,000 SF headquarters. The improved facility will include a manufacturing and distribution center of 34,326 SF, and 19,600 SF of office space. (The expansion is projected to provide 60 new jobs.)
FedEx: The company's new 236,976 SF distribution center is planned for construction at 1960 102nd Avenue North.
Johns Hopkins All Children's Hospital and Research Center: The $85 million research facility is under construction at 5th Street and 6th Avenue South. Schedule to be completed in 2018, the 225,000 SF development will include a research lab, simulation lab, research office spaces, and a 250-seat auditorium. The new medical research facility will provide workspace for approximately 200 faculty members, researchers, doctors, nurses, and support staff.
Jabil: Global manufacturer and one of Tampa Bay's largest companies, Jabil is remodeling their 69,000 SF facility, located at 10001 16th Street North, to house a new R&D lab and engineering functions focused on development of wearable technology.
St. Petersburg Police Headquarters: The new $81 million police station, under construction at 1301 1st Avenue North (just across the street from the old station). Projected completion of the, expansive 167,519 SF development is late 2018.
Multi-Family
The Salvador: Currently under construction at 2nd Street South and Dali Blvd, the green-certified 13-story condominium development overlooking Tampa Bay will include 74 condo units and 3,300 SF of retail space.
St. Petersburg II Apartments: An 8-story apartment building with 348 units is under development between 2nd and 3rd Avenues South. The multi-family project is being developed by NRP Group (which also built the nearby Beacon 430 apartment complex).
ONE St. Petersburg: The expansive mixed-use ONE project includes a 253 condominium units in its 41-story high-rise, making it Pinellas County's tallest building.
Overview
The total number of residential units in the downtown area has increased by nearly 20% over the past five years. And, in the past three years, 10 corporations have moved their offices to downtown Petersburg. The growing residential and office population along with current development to promote a vibrant arts and retail district at the heart of St. Petersburg are promising signals for long-term downtown stability.
And, the yet-to-be-fully-shaped initiatives for a future "Innovation District" construction projects around the University of South Florida, St. Petersburg campus appear promising for additional broad-scale mixed-use development around the university micro-economy.
Notably, it is argued that the downtown area is in need of much additional office space, however double digit vacancy rates 14.5%for Q2 2017 (Cushman & Wakefield) along with the significant number of new vacancies to be created by development currently underway, make that point arguable.
Generally, greater downtown St. Petersburg is receiving extensive investment in new commercial real estate development. From downtown revitalization initiatives, to commercial expansions in the Gateway/Carillon area, St. Pete's real estate market is in a highly dynamic period.
----------------------------------------------------------------------------------------------------------------------------------------------------------------------------
The Ethics That Commercial Real Estate Brokers Must Abide To Maintaining Their License
All real estate transactions are fraught with ethical and legal hazards for brokers. The National Association Realtors 2017 Code of Ethics and Standards of Practice contains 17 Articles (and its abundant supporting explanations of Standards and Practices) applies to all real estate transactions. Often, when ethical rules that are serious enough to also have legal value are broken, buyers or sellers bring suits against brokers or agents, based either on statutory or common law. And, real estate professionals licenses are exposed to possible suspension or revocation. These consequences can occur due to a number of serious violations, including misrepresentation, failure to disclosure property conditions, false advertising, breach of fiduciary responsibility, unlawful discrimination, and many others.
Where brokers in currently highly active major US commercial real estate markets deal with great numbers of buyers and sellers in our litigious world of real estate transactions, a high volume of lawsuits is an unfortunate inevitability. The good news is that in the vast majority of suits (75%), licensees are not found liable and real estate licenses are not affected, per NAR Legal Affairs reports, as reported in an NAR attorney's summary report.
To reduce risk of legal consequences, including law suits and potential suspension or revocation of the real estate license, brokers should familiarize themselves with the Code of Ethics, and with the most common types of legal, hence ethical, perils confronting brokers in all transactions.
Misrepresentation
The most frequently brought lawsuit against brokers, by far, is for misrepresentation. In the NAR's 1998 report, 57% of all lawsuits against brokers and agents, that were NAR insured through its program to protect members against certain errors and omissions, were due to misrepresentation. Another 12% were due to failure to disclose, a close relative of misrepresentation. (Misrepresentation is defined as making a false or misleading statement regarding some aspect of the property.) Failure to disclose is neglecting to reveal some important feature of or issue regarding the property.
Misrepresentation regarding foundation and structure accounted for 20% of lawsuits, per the NAR attorney's summary of the 2000 report, which, given the nature of business activities in the industry, can be reasonably presumed to be consistent with historical data since that time. Roof, property boundaries, and termite problems were other common causes of legal disputes. Disclosure issues included title, easement, and environmental problems, and unpermitted renovations.
Misrepresentations may be innocent, negligent, or fraudulent. Negligent misrepresentations are such ethical violations as failing to disclose major flaws in the property, due to the broker's ignorance of the flaw. Whereas, fraudulent misrepresentation is a concealment of a flaw or feature for the purpose of making the sale.
Courts have determined that agents and brokers may rely upon statements made by the seller, unless there is reason to doubt the truth of the seller's statement. For example, you can say, "According to the seller, the roof is four years old." In some states, you must go beyond what you've been told, and conduct your own visual inspection and disclose what you have discovered from it.
To be misrepresentation, a statement must involve a material fact that the buyer would reasonably rely on in making the decision to purchase, not merely your opinion.
To minimize your potential liability for misrepresentation liability, ensure that your sales agents use seller disclosure forms, and confirm that every seller actually fills out the form. Document sellers' sources of the information they provide. Use inspectors and attorneys when appropriate. And, train sales agents not to invite legal action by making their own assessments or predictions, such as "These foundation cracks are only superficial," or, "Property values in this neighborhood will definitely appreciate."
Environmental Problems
When broker's agents fail to lead advise sellers to have properties professionally evaluated for hazards such as lead paint, asbestos, contaminated groundwater, and other environmental issues lawsuits can result. Law requires informing prospective buyers of the known presence lead paint, for example, and requires brokers to include specific language disclosing the problem in sales contracts and leases.
To limit your liability due to environmental issues, stay updated on common environmental hazards and issues in your area, EPA information resources, and maintain a list of your local environmental inspectors and other resources to provide your customers. And, monitor your sales agents' compliance with disclosure and documentation requirements for lead paint and other environmental problems that are relevant in real estate transactions.
Breach of Fiduciary Duty or Other Agency Issues
Lawsuits and serious jeopardy to licenses are frequent, due to legal problems arising from nondisclosure of dual agency. About 10%(year 2000) of lawsuits against real estate brokers and sales agents are due to this ethical and legal violation.
The NAR Code of Ethics requires disclosure of dual agency, but laws regarding timing and methods of disclosure vary from state to state. In fact, definitions of agency duties are so insufficient in many states' statues that numerous state associations have asked to have laws created to set forth statutory duties specifying brokers' duties and real estate consumers' reasonable expectations.
To reduce your risk of liability for violations of fiduciary responsibility, take continuing education courses to keep updated on your state's current agency disclosure laws, and require your sales agents to use agency disclosure forms, upfront, in instances of dual agency.
Fair Housing Violations
Only about 1-2% of lawsuits against brokers arise from ethical and legal violations involving fair housing disputes. But, judgments in these cases can be very costly. This is a complicated area of litigation governed by federal discrimination laws.
If sellers decide they don't want to sell to people of a particular race, ethnic background, or sexual orientation, a broker is well advised to avoid taking the listing. A common and simple method used for detecting steering, or other violations of fair housing laws, is to test. The courts have judged that this kind of testing is lawful. Although it consumes some of your time to perform a test, with the help of real estate shoppers who actually have no intent to purchase, it can save much more time later, if legal action ensues.
Legal actions have been taken against MLSs due to members remarks included in internet listings that violate fair housing laws, for example, "perfect for empty nesters," and "no children". These kinds of stipulations are illegal, and carry the same degree of liability whether published digitally or in print.
To reduce your risk of fair housing issues, educate yourself and your sales agents on fair housing ethics and laws. And, document thoroughly, to ensure that all buyers are assured of equal treatment.
See the NAR model equal services report forms, for sales and for rental. These are very useful tools in defending against discrimination claims.
Antitrust
Antitrust laws are meant to prevent unreasonable restraints of others' ability to trade. Price fixing, group boycotts, and other antitrust violations can spur legal actions. Competing brokers must not participate in discussions of their own commission rates, or about amounts of compensation they offer to cooperating brokers. And, avoid any conduct that could possibly lead to charges that you unethically and illegally agreed not to do business with a particular competitor.
To avoid liability due to antitrust issues, educate yourself and all sales agents on antitrust compliance, and maintain a strict company policy prohibiting discussions of commission rates with prospective sellers. Avoid preprinting commission rates on standard form contracts or in advertising.
False Advertising
Lawsuits resulting from false or misleading advertising by a broker may also involve affinity programs, internet advertising, For Sale sign bans, etc..
All advertisements must comply with state laws or regulations governing licensing, and with the REALTOR® Code of Ethics. Laws pertaining to licensees typically include requirements for indicating the broker's status as a real estate sales licensee on all advertisements. Article 12 of the Code of Ethics also cautions its member realtors to be diligent in presenting a true picture in all ads.
Real estate commissioners have examined internet advertising. As a result, some states have adopted laws to govern internet advertising by licensees in their states. These may include use of email and digital bulletin boards.
To manage against liability, ensure that all of your firm's advertisements are truthful and do not feature any language or imagery that may be construed as misleading. And, comply with state laws governing internet advertisements for property sales and for real estate services. The NAR has worked in partnership with the Newspaper Association of America to develop guideline for effective and appropriate advertising.
Sales Agent's Status as Employee, vs. Independent Contractor
An estimated 90% of real estate industry brokers utilize independent contractors to constitute their sales teams. Federal laws passed in 1982 make it qualifying as an independent contractor easier for real estate salespeople, for federal tax purposes. However, state requirement based on common laws governing state income taxes, unemployment compensation, worker's compensation may conflict with federal allowances for independent contracting with real estate salespeople in your state.
To avoid liability regarding employment status of your sales agents, educate yourself regarding your state's legal requirements for status as an independent contractor. And, require written agreements with your sales team members. Further, create an employee handbook including specifications of employment status for all employees of and contractors with your firm.
Real Estate Settlement Procedures Act
Violations of the RESPA often occur when title services, mortgage brokers, other lenders, or real estate brokers receive or give something of value in exchange for referrals. The RESPA is intended to inform buyers about costs of closing and to prevent kickbacks to real estate brokers and other settlement service providers for referrals.
The majority of referral fees are legally prohibited, however, the law does permit referral fees to be exchanged between real estate brokers. Brokers are required to disclose their ownership in other service providers (such as mortgage companies, other lenders, or insurance companies to which you refer a buyer). The NAR has lobbied for needed updates and amendments to the RESPA in this area of restrictions.
To minimize liability due to RESPA violations, receive continuing education, and ensure that you understand ethical and legal prohibitions, and maintain strict compliance in instances of referrals made between affiliated service providers by representatives of your brokerage.
Unauthorized Practice of Law
When brokers or sales agents provide legal advice, lawsuits often follow. The NAR Code of Ethics, Article 13, stipulates that realtors must not engage in any activities construable as unauthorized practicing of law. Courts have worked to define what it means to commit such a violation.
The courts have sought to protect the public from being damaged by unqualified practitioners while also considering whether or not permitting brokers to draft clauses in legal documents may be in the public's greater interest. Ultimately, the courts have decided that brokers can be permitted to complete blanks of preprinted, attorney-approved, sales agreements. But, brokers are not allowed to draft documents or provide legal advice.
The U.S. Justice Department has determined that previous NAR practices of collaborating with the American Bar Association to define appropriate roles of brokers and lawyers were tantamount to dividing the marketplace, and therefore legally prohibited. So, you should discontinue any such arrangements between your local realtors' affiliation and members of the bar association.
To avoid liability due to overstepping in the area of providing legalese or legal advice, be clear on the boundaries of what you are permitted to do in your state. And, advise your clients to hire an attorney, if they have legal questions or concerns that exceed those boundaries.
Americans With Disabilities Act
Legal actions are frequently undertaken by victims due to violations by brokers who fail to comply with their legal responsibility to do what is "readily achievable with reasonable effort and expense" to provide necessary accommodations for their clients with disabilities. The requirements include ensuring that your office, which is legally classed as a public accommodation, provides curb breaks, access ramps, curb breaks, and other modifications allowing disabled people entry into the bu